Welcome to Answerland, the place where Chubstr answers your burning questions about…well, anything. Questions about clothing, style, grooming, food & drink, entertainment, art, or anything in between – if you have questions, we'll do our best to help you out. Just click here to ask a question, or reach out to us at Twitter. 
Christina asked:
I'm writing in for my boyfriend, Caleb. He is on the shorter side at 5'6″ and he wears a 38W/shortest available length in pants. For dress shirts, he doesn't even know what size he would wear, as any shirt that fits his thick neck is clownishly huge everywhere else. This is a problem, as he works in a professional environment.

My question is, do you know of any resources for short-and-chubby guys? The Big and Tall section usually fails us. Is custom tailoring the only option for all the hobbit-like dudes out there?
I feel Caleb's pain as I'm a short and stocky guy myself. Custom tailoring requires more work, but it's almost always worth it. If you're looking for shirts,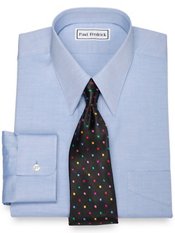 pants, or suits, consider stores like Paul Fredrick, Modern Tailor, or Indochino. Ordering online can usually help you find items in the specific size you're looking for. Some sites, like DestinationXL let you create a profile with your exact sizes, so you have the option of searching by your size only. That has come in handy for me when I'm searching for clothing that fits me exactly.
As far as searching locally, focus on big & tall stores – many of them have a range of sizes and lengths to suit men of many sizes. I'd recommend staying away from the mall – in my experience, sizes normally end around XL or XXL – if you need larger sizes, stick with online shopping.