Welcome to Answerland, the place where Chubstr answers your burning questions about…well, anything. Questions about clothing, style, grooming, food & drink, entertainment, art, or anything in between – if you have questions, we'll do our best to help you out. Just click here to ask a question – if you want it to be anonymous, let us know in your message. Our first question comes from Christopher Gibson, who is searching for the perfect denim shirt:
Evening all, just a quick question and search for help in finding a shirt. Does anyone know where I'd be able to find a nice cut, dark denim shirt that also has length on it as well? Not looking for a black denim shirt but more of an indigo colour and I'm having murder trying to find one out there. I've tried on ones before and they've looked like belly tops on me (I'm 6 foot 6 so length on shirts is a big thing!). If anyone can help thanks a lot and if not no worries! Keep up the good work all!
Thanks for the question, Christopher! It's always a bit of a crapshoot when you buy a shirt online; you never know if it'll fit you the way that it should or if you'll be sporting a denim half-shirt (which I'm sure is a great look for some of you) when you wear it. We did some research and found the following places to shop for a denim shirt that fits. They come in a variety of sizes, styles, and prices, so there should be something that works for you: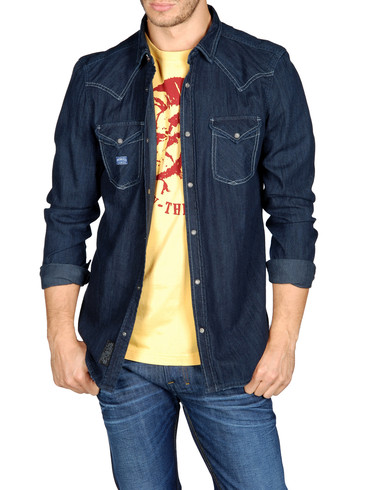 The SWEESTY denim shirt by Diesel might be up your alley. It's part of Diesel's fall/winter '11 collection and is made from denim cotton with a worn effect to make it look a bit more broken in. If it's not right up your alley, there are a few other denim options at Diesel that could work, but they aren't in that indigo color.
The SWEESTY retails for $150 and is available to XXL.
Wrangler's Cowboy Cut Firm Finish Western Shirt in rigid indigo could be a good option if you want more of a work shirt type of look. It's made with 100% cotton in the way that Wrangler makes most of their shirts – to be indestructible. Sizes are available to 3XLT, so if you're looking for something that's long enough, this is the way to go. The best part? It only costs $29.97
Wrangler has denim shirts-a-plenty, most with a pretty classic look, so be sure to browse their selection before you make a decision.
The Lucky Brand Denim Western Shirt has a more modern look to it than what you'll find at Wrangler. You have two color options with this one, but since you're looking for a darker wash, go with the cavalier wash. You'll find this shirt in sizes to XXL at the Lucky Brand website for $79.50.
There are two other options, but I'd recommend skipping the one that has built in grease stains.
Of all the shirts we've looked at so far, the 1955 Denim Shirt from Levi's Vintage Clothing is my favorite. It might be darker than what you're looking for, but they still call it blue. Sizes available to XXL and you can pick this shirt up for $195 at Mr. Porter.
None of those tickling your fancy? Here are a few more denim shirts we came across:
There are 8 to choose from in different styles, washes, and prices. Hopefully one of these shirts will give you what you're looking for. Whatever you choose, send us a photo and show us what you decided on.
Do you have a question you need answered? Send your questions to Chubstr here and we'll do our best to help you out.
Featured photo by Carlito A. at Lookbook.nu. See all his photos!